Summary
The match between both the Red Dragon Emperor of the Blazing Truth Team led by Issei and Team Sona Sitri led by Sona held at the Armaros Colosseum, which was decided to be an One Day Long War. The rules are similar but opposite then that of Lighting Fast as this game type is a drawn-out battle that takes an entire day. It is long and drawn-out as the rules enforced a full-day time limit, during which players would traverse a vast area and take down their opponents. Due to the size of the prepared field, the ability to search and locate an opponent became important, and it was a test of each player's stamina and endurance. The game ends when a team defeats the enemy King.
The game field was a vast plateau. There were rivers and forests, while mountain ranges stood in the northeast and southwest. The field had been divided into numerous sections according to the grid of a chess board. And so, according to the chess grid, Team Sona Sitri was transported to the position of E8. In contrast, it appeared as though Red Dragon Emperor of the Blazing Truth Team's team had been transported to D1. 
At the beginning of the game, Issei Hyoudou transformed into his Pseudo-Diabolos Dragon armor, using his Infinity Blaster to alter the terrain of the vast plateau, which had been flattened from south to north, the forests and rivers had been completely vaporised, and all that remained was a barren surface.
Firstly, the linear area in columns D and E had almost been wiped clean by that bombardment. In addition, there were also traces of cannon blasts from the south to the northeast and northwest, as Issei had launched a bombardment from the south in three directions. Issei had directed two of his four cannons in Dragon Deification form toward the north, while the other two were aimed at the northeast and northwest when he fired. Elmenhilde sent a swarm of bats to the northern side where the Sitri team was located, in order to perform surveillance on the Sitri team, tracking their movements, as well as placing the talismans which would enhance Nakiri's earth sensory technique. Bina flew into the sky, while waiting in standby. Rossweisse was ordered to intrude on the enemy territory in order to use promotion to promote to Queen.
Sensing movement via Nakiri and Elmenhilde's abilities, they detected the movements of Tsubara and Ruruko, who were heading towards the recovery point, in order to capture it, as Issei, Irina and Rossweisse were sent to stop them while Bova carried Xenovia and fly over the area where their opponents could be lurking, as he was ordered to report back as soon as he discerned their movements from the air.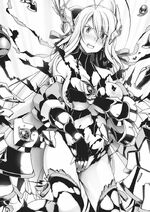 Issei, Irina and Rossweisse headed to forest near C5 in terms of a chess grid, arriving at the pond where the recovery point was as they meet Ruruko and Tsubara. Issei engaged Ruruko while Irina and Rossweisse fought Tsubara. After receiving confirmation from Ravel that their team did not need the recovery point, as it was destroyed by Bina. With their objective destroyed, Tsubara and Ruruko tried to retreat but not before Irina managed to throw her light ring technique that wrapped itself around their necks.
After Issei, Irina and Rossweisse returned to their base, Nakiri was able to confirm movement in the center as black flames which had risen up into the air. It looked as though the black flames had been released upwards from the centre of the field, indicating Saji's location. Realizing that this was Saji's invitation for a one-on-one duel, Issei departed for the centre to have his fight with him.
As Issei and Saji confronted each other, Issei was able to defeat him but was drained of all of his stamina and was unable to continue to fight the rest of the Sitri team.
Meanwhile, remaining members of the Sitri team began to advance toward Team Red Dragon Emperor of the Blazing Truth's base.
Elmenhilde was confronted by Loup Garou, and while initially on the defensive, she was able to gain the advantage after revealing her silver Gundam figurine which she used to attack Loup with.
Bova confronted Bennia, who continued to evade his attacks. Irina faced dueled Hoderi in a swordmans duel. Ravel and Asia faced off against Tsubaki, and though they were initially at a disadvantage, Ravel was able to retire her after exploiting her embarrassment by reading a doujinshi novel that Tsubaki created.
During the battle, Irina's light ring technique activated, which allowed Bina to detect the positions of Tsubara and Ruruko, as she launched her vast demonic power to retire them.
Xenovia faced off against Sona, and while Sona initially had the advantage due to her using a nearby pond to continuously create a army of water monsters, Xenovia was able to gain the advantage by using Cross x Crisis to destroy the pond, as she cornered Sona and slashed her with her Holy Sword, retiring her and winning the match.
Participants
Battles
Western Side-Recovery Point
Issei Hyoudou, Irina Shidou and Rossweisse vs Ruruko Nimura and Tsubasa Yura
Centre Side
Issei Hyoudou vs Genshirou Saji
Team Red Dragon Emperor of the Blazing Truth base
Elmenhilde Karnstein vs Loup Garou
Bova Tannin vs Bennia Orcus
Irina Shidou vs Yukihiko Hoderi
Ravel Phenex and Asia Argento vs Tsubaki Shinra
Ouryuu Nakiri vs Tsubasa Yura
Pond
Xenovia Quarta vs Sona Sitri
Results
Western Side-Recovery Point
Issei Hyoudou, Irina Shidou and Rossweisse vs Ruruko Nimura and Tsubasa Yura (Interrupted)
Centre Side
Issei Hyoudou vs Genshirou Saji (Winner: Issei Hyoudou)

Genshirou Saji is eliminated
Team Red Dragon Emperor of the Blazing Truth base
Elmenhilde Karnstein vs Loup Garou (Match Undecided)
Bova Tannin vs Bennia Orcus (Match Undecided)
Irina Shidou vs Yukihiko Hoderi (Match Undecided)
Ravel Phenex and Asia Argento vs Tsubaki Shinra

Tsubaki Shinra is eliminated

Ouryuu Nakiri vs Tsubasa Yura (Winner: Ouryuu Nakiri)

Tsubasa Yura is eliminated by Bina Lessthan

Ruruko Nimura is eliminated by Bina Lessthan
Pond
Xenovia Quarta vs Sona Sitri (Winners: Xenovia Quarta, Issei Hyoudou, Irina Shidou, Rossweisse, Elmenhilde Karnstein, Bova Tannin, Ravel Phenex, Asia Argento, Ouryuu Nakiri and Bina Lessthan)
Trivia